A full-service travel app that can tailor a trip to any user's 
needs or desires in one place. 
user research, competitive research, wireframing,
UI/UX design, branding, illustration, usability testing, ideation. 
Trip planning can take many different forms, depending on your situation. For some, trip planning is a source of excitement and energy and a willingness to put in the time and effort to make it perfect. They take research in stride and don't get discouraged when there are roadblocks. Others find the trip planning experience a stressful to-do item amongst the never-ending list of priorities. Additionally, people have very different needs when they travel. Some people are traveling solo, some with a family, a larger budget, a smaller one, exploring, or just relaxing. While there are certain services out there that take care of one or two aspects of the trip planning process, few take care of everything according to your specific needs and desires in one place.
Design Thinking Process
​​​​​​​
To design the product, I used the Design Thinking Process to guide the development of TravelApp. First, to empathize with the user, I interviewed target users and created journey maps, empathy maps, and personas to put myself in the user's shoes. Next, to define the problem, I gathered all the data I had from the empathize phase, in addition to a competitive audit, to set the direction for TravelApp. I then ideated solutions via paper and digital wireframes, which I then turned into a low-fi prototype used in the first round of usability studies. After analyzing the findings from the first usability study, I began work on a high-fidelity prototype, which was sent along to users for the second round of usability testing. Finally, I improved my designs by analyzing the findings and incorporating user feedback from the second round of studies.
To get an in-depth understanding of the pain points and gaps in the current travel service market, I interviewed three individuals who travel under different circumstances throughout the year.

Before starting this research, I assumed that travel was a source of pleasure for most, that people enjoyed planning their travels. However, after interviewing my three participants who had different lifestyles and circumstances, I realized that travel planning comes in all shapes and sizes.


User Interviews: Pain Points
Users wanted to ensure they maximized their money to have the most fulfilling trip possible.
FOMO was real amongst all the participants. At the end of the trip, no one wanted regrets, but felt overwhelmed with all they didn't know about the destination.
All the participants had very different needs. Some felt comfortable leaving some details to chance, while participants with families needed proper accommodations for their children and a solid plan.
To fully understand the complexities of trip planning for my users, I mapped out the step-by-step process of booking a journey from the perspective of one of my personas. By breaking down the individual parts of the trip planning process, I was able to see what aspects of the planning process needed improvement and which positive experiences to enhance upon for the target user. 
Before completing this activity, my understanding of user needs was more general, such as "users need customization options for their trip" or "users need an easier booking experience." However, after the activity, I was able to specify how to help my target user, such as including a questionnaire to capture their needs instead of having them research themselves.
Goal: Book a solo trip to Japan that meets her needs. 
To understand what already existed in the travel planning space, I performed a competitive audit on both direct and indirect competitors of TravelApp. I took a deep dive into their product experience, features, accessibility, navigation, branding, tone, and everything in between for each competing service. By completing this exercise, I understood what other services did well and where they could improve the user experience so that TravelApp could fill that gap.
Competitive Audit Findings
1. Design for accessibility. 
2. Do the tough travel research and vetting for the user. 
3. Fully understand the user: Ask them meaningful questions to understand what itinerary would work for them. 
4. Take care of the bulk of the trip planning process, not just one or two things. 
Starting the Design Process
As a visual designer, this was one of my favorite parts of the design process. I was very excited to roll up my sleeves and begin sketching concepts for the product I had done so much research for.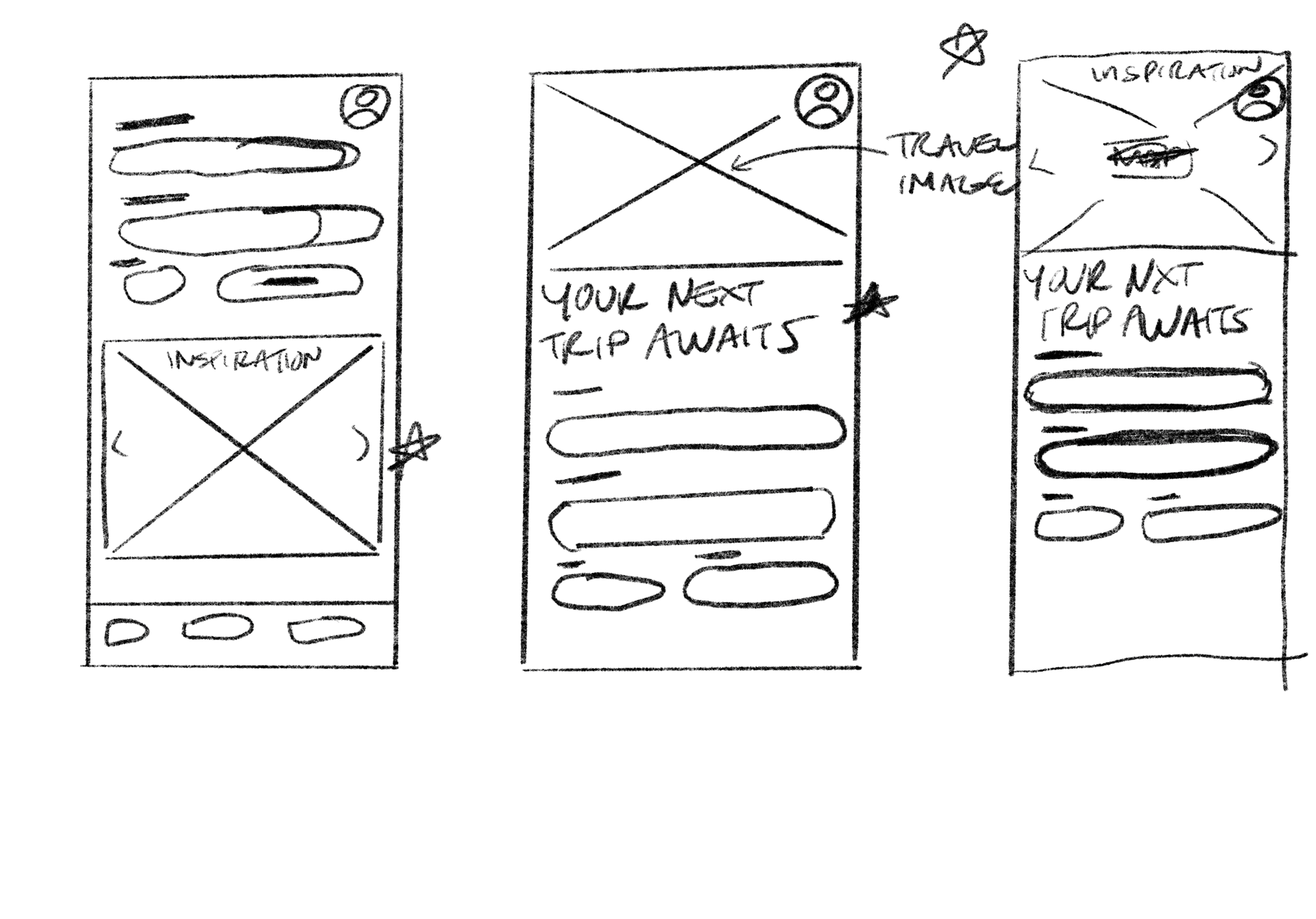 First, I used paper wireframing to quickly iterate on different layout options for critical screens in the user experience. I listed the "must-have" elements for each screen and sketched out six potential layout options that I would consider turning into a digital wireframe. I ultimately chose a final screen out of each set of six that reduced cognitive load, enriched the experience, and contained all the essential elements I wanted for that screen.
After resolving my wireframes on paper, I converted them into digital prototypes in Figma. As I did so, I made slight adjustments to serve the user's mobile experience best. Finally, after creating digital wireframes for all the essential screens, I connected them to create a low-fi prototype that I could test out on real users.
After converting all of my paper wireframes into digital ones, I connected the finished low-fi screens together to prepare for the first round of usability testing. The interactive flow allowed users to get an idea of how the screens would be laid out, how they would get from A to B, and quickly identify issues with the design. 
 7 participants/
unmoderated
Users want more customization + an experience that captures their specific needs.
Make sharing options more accessible to users.
Users need an easier-to-digest itinerary experience.
 5 participants/
unmoderated
Booking flow needs enhancements to accessibility + inclusivity. 
Users weren't entirely sure how the service generates recommendations/what the service does and doesn't do. 
High-Fidelity Prototype Improvements
Accessibility Improvements + Obtaining trust 
To improve accessibility, I added a screen to the questionnaire to capture a user's specific needs or select from a preset selection of accommodations.

I also added links to explanations/privacy policies when the app asks for sensitive info.


To improve usability, I added buttons in the "my trips" section to quickly link to the user to important travel info, such as view itinerary, airfare, or hotels. I also added a journey map at the top of the trip planning screens to give the user context on where they are in the trip planning process. 

To allow the user further customize their trip, I added the ability to select the ages of children. 
To give users an understanding of how the service works, I added an introductory screen that goes over what TravelApp does. The screen also provides some context before the user jumps into the questionnaire flow.

The screen also gives users a peek behind the curtain as to how TravelApp makes suggestions for them.
I used the outcome of usability round one to build out a high-fidelity prototype. Once I had completed the high-fidelity version, I sent it along to users for the second round of usability studies to ensure that I met their needs. I refined the prototype further after the second round of usability studies to come up with the final prototype.
Accessibility Considerations
1. Travel questionnaire allows users to select from a list of common accommodations, or type/speak their specific needs for the support team to accommodate.
2. I ensured that color contrast ratios of all elements conformed to WCAG AA standards. 
3. I added enlarged, high contrast buttons throughout the UX for essential functions.  
Final High-Fidelity Prototype
Overall, participants throughout my usability studies wanted to see this come into the real world. A majority answered that they would use this app to plan a real trip! 
Throughout this process, I learned how to bring a product from conception through to final prototype via carefully empathizing with the user, creating wireframes and prototypes, and iterating on my designs via the outcome of usability studies.

I also learned never to make assumptions. Through user interviews, many of my beliefs about travel planning were disproven, assuming that most people liked to plan their travels. On the contrary, many people find trip planning to be stressful in one way or another.
- Add additional functionality, like a "shuffle" option to generate a random trip for you if you didn't know where to go + develop the explore page.
- Conduct usability tests with the additional features, and iterate on the designs based on that feedback.
- Partner with an engineering team to make this app a reality.


You can reach me via email at william@wmurphydesigns.com or via my website at willmurphydesigns.com. I look forward to working with you!